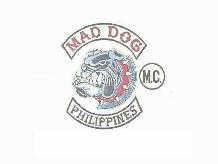 Next Ride: Saturday April 7th - Destination: Perhaps a ride to Subic / Olongapo. Join the Dogs at 5:30AM at A&W for the ride. As this is Holy Week, traffic may be heavy. Ride safe and keep the shiny side up. Papadad. MDMC 111 (3-aces).

Sunday April 1st: April fools day. 3 independents, 1 mad dog. Ride to Tagaytay. Quick ride to keep the battery charged and the oil circulating.
Satuday March 30th: Ride to Fima. 5 Dogs. Good ride. Great weather.
Sunday March 27th: Yes, you read it right. Sunday Rides have begun. In an effort to get more motorcycle visibility, we are starting very very informal Sunday morning rides. These rides are for those of you that the Saturday morning crew spot on P. Burgos limping home at 4:30AM with a Lowie in tow and a wicked hangover just around the corner.

Sunday's ride included 1 Dog and 4 independents known as the "Flying Fins" as they all happen to be from Finland.

The rally point is the Total Gas station between Alabang town center and Festival Mall.

Meeting time is 6AM.

Today's ride took us down the freeway access road near Muntinlupa to Santa Rosa, to Tagaytay, on the way to Lemery, to Nagsupud, through the back roads and back to Alabang. We were back by 11AM....good weather (hot, sunny, dry) and all the bikes ran well. Best of all, the traffic was MUCH MUCH better than Saturday morning rides. In fact, it was a pretty enjoyable ride where you could actually do some cruising, and groove into the turns and twisties. Lotsa fun. Let's try again next week...this time with a few more Dogs.



Who Let the Dogs Out ? ? ?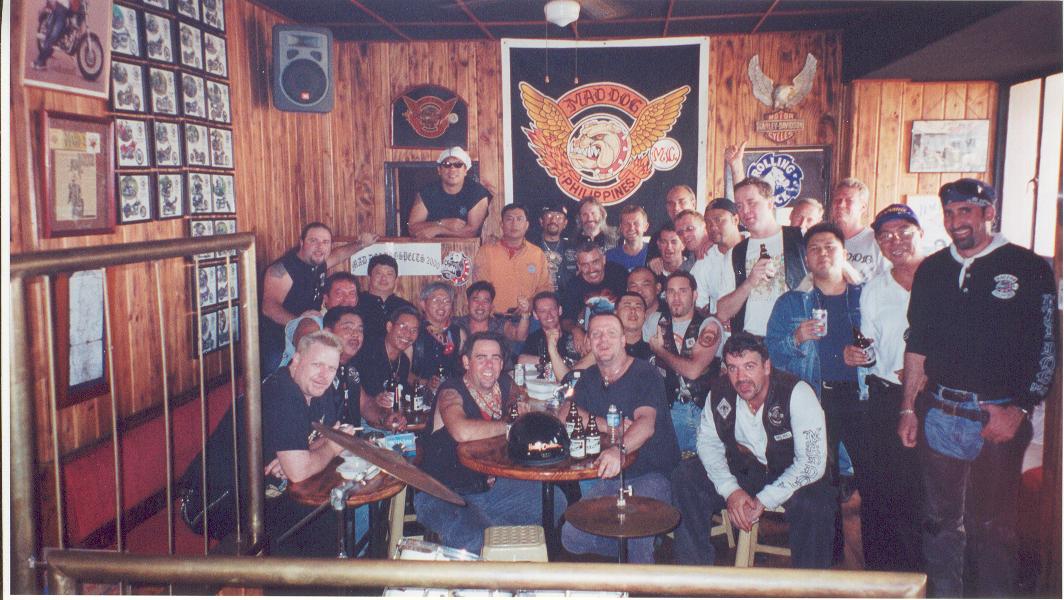 Saturday March 24th. Bacolod Federation Ride in progress. Report to follow. The Saturday morning crew at A&W: Teddy, 108; Papadad,111, Edwin 105. Quiet morning. Guess everyone else slept in....

Saturday March 17th. St Patricks Day, and a day to remember. Tattoo number 111 goes to Papadad. Departed from A&W at 5:30AM for the ride north. Arrived at Whiteys at 7:30 for a quick bowl of Irish stew ... or was it a Jaffles..... (always delicious food at Whiteys) and then to the Master's lair for a 3 hour session with the paint pen. James, 100 turned his "little worm" into a cobra snake.....and Engineer added some tribal artwork below his MDMC insignia. We were headed south again by 12:30PM to arrive at the dog house for the QMM and induction ceremony. All I can say is that I'm proud to be a Dog, that you guys are a lot of fun, and that I had no idea what a mess raw eggs, food coloring, and who knows what else makes in your hair. QMM update to be published in next round of the Dog Dirt. A Japan ride is in the works....watch this space for more info , and to ride with Mad Dog Japan riders. The Easter ride is still pending, since so many riders are with family that time of year. Another opportunity may be May 1st (Labor day, 4 day weekend). It's Golden Week in Japan that week and the big Japan Harely Davidson rally is happening, so the trip to southern Japan will be a blast.


Saturday March 10th. Overslept. Ride along Roxas Blvd. Short / quick ride today. Have not been to Tagaytay in a while.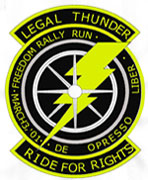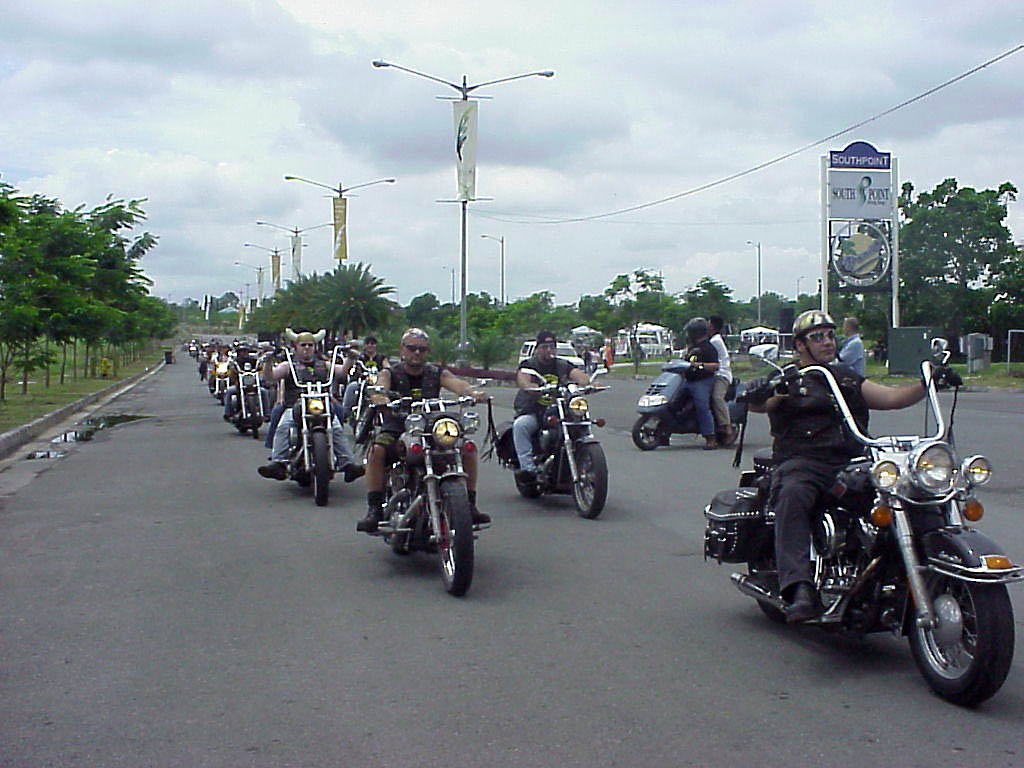 Updated: March 4, 2001 Excellent turnout at the rally this weekend. I counted no less than 70 Mad Dogs - we were in force, made the statement that we continue as the premier motorcycle club in the Philippines, and did our part to help the cause for freeway access. All told, the day was a success -- starting at our "normal" 5AM start time, about 15 bikers met at A&W for morning coffee. After Kato-san arrived, we all took a short ride down Ayala avenue to Roxas Blvd for a brief warm-up ride. The rain started to fall as we headed for the Shell station and Dog rendevous point. By 8:45, we had about 50 bikes and were ready to make our ride to the Fort. We had seen several groups of 10-12 riders pass on Ayala, but when the Dogs pulled onto the road, it's as if time stood still. Everyone rode courteously and the daredevils took the day off (even Chaim)! As we pulled into the fort, we could see maybe 100 bikes already there. Of couse, by this time the Dog pack was close to 80 bikes.....and we all rolled in at once, doubling the "ride" participation.

Another example of our dedication to riding when 80 dogs (almost all active members) show up when it's cold and raining like hell for a Freedom Rally.

The ride to Alabang was quick, and once there, Lach managed to find some beer and we checked out bikes, played lots of bike games, drank beer, got sunburned, and had a good time. We set up a MDMC booth and sold T-shirts, hats, etc.

Thanks to all Dogs who were involved in this event. Due to the turnout, the LTO had agreed to meet with us on Monday 3/5) for further discussion on repealing the freeway ban for Motorcycles. Biker Power!




NEXT QMM: Saturday March 17 at 3PM at the Dog House. All Members are required to attend. Written regrets to Tom or Carl ahead of the QMM if you cant make it or you will be fined!



Dont forget - now taking reservations for the Federation Ride - March 21-26 in Bacolod. Contact Chito, MDMC #1 for full information. Total cost is approximately 16K pesos including shipping of your bike, nice ride around Cebu, Danaue, and more.





Saturday February 23. Met at 5AM at A&W. Emerson stopped by on his Sportster, but didn't make the ride. Fewer riders today than we've had in a number of weeks- 3 dogs, 2 prospects. Kato and Egay had bike issues, else they would have joined us. Boy, Edwin, Papadad, Ferdie, and BY rode over to Antipolo and Lake View restaurant for coffee/breakfast. Roads were full of gravel and sand. Noted the back end on the bike loses traction in the turns....time to check the rocker arm bearings and the tires (they only have 3K or 4K on them, but this place is tough on tires). Did manage to meet up with a group of 20 or so of the 50cc gang. They were having a blast on the twisties and hills. Looked to be highschoolers or maybe 1st or 2nd year university age -- stopped while we ate breakfast......we commented how much FUN the big group of them looked. Would like to see our Saturday or Sunday (see below) rides increase in numbers -- to a minimum of 10 every ride.....come on Dogs.....get out there and put some miles on your bike. Harleys need to be run weekly to clean out all the moisture and condensation anyway.


Club is going to be starting a Once Per Month Sunday Morning ride for those who are not able to ride on Saturdays. Working out details. See Loch for details (ride committee). Would still be early morning departure (say, 6AM) and back by noon. Much better traffic on Sundays anyway.
Mad Dog Overnight Ride - Weekend of Feb 17 and 18 -- 5 dogs and 1 prospect set our sights for the Northern Mountain city of Baguio. Teddy, Boy, Bodie, Engineer, Edwin and Papadad (prospect) met at A&W at 5AM and took the ride north. Great ride, great weather. 7 hours to get there with a stop at Vilmar for lunch and a few fuel stops along the way. Road conditions and traffic were generally good despite the flower festival in Baguio (full packed roads once in the Baguio city limits). Stayed at a nice condo. Cooked lots of good food. Drank some booze, etc. Took off at 8AM from Baguio on Sunday morning for another great ride (especially the mountain twisty roads) with minimal traffic on the North Luzon and even decent traffic on EDSA coming home. Took about same time -- 7 hours door-to-door. Only 1 minor mechanical breakdown -- Boy's rear break needed to cool off after the mountain roads. We stopped for 15 minutes and were on our way. Lots of fun. Till next week, Ride safe and shiny side up. Papadad.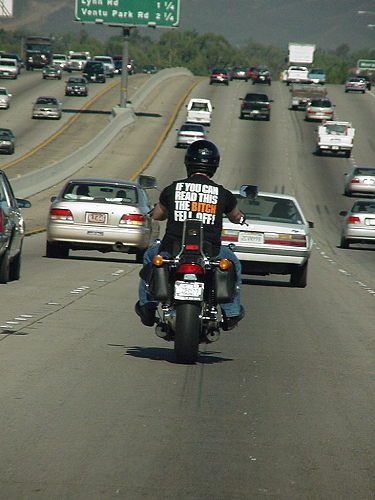 Ride report: Feb 10, 2001. 13 Riders in all. 11 Dogs and 2 prospects. Surprise visit at A&W by Jerry and wife on their way home from Heckle and Jeckle at 5 AM. Surprise rider -- Jamir joined us today. Tom #2, our prez, was the lead dog. Saturday group: Bodie, Engineer, Egay, Boy, Edwin, Ferdie, Papadad, Tom K, Tom L, Jamir, James R, etc. Rode to Lake Taal to check out possible venues for a family day ride. Couldn't find breakfast to save our lives. Finally found a place -- good food. No mechanical breakdowns. Heavy rain on the way there and back.


Ride report: Feb 3 2001 : Theme for today " Hey...you got new handlebars too" ... Tom, Ferdie, Joe, and Carl all had new handle-bars this time. Mini-apes or ape hangars were the majority. Rode to tagaytay with Breakfast at the Lookout. 6 riders, 2 prospects, 1 guest - Ron and Guest (back riding), Carl, Boy, Egay, Edwin, Ferdie, Tom K., Papadad. Quick ride. Home by 10:30 AM. A good ride. Modest rain on the way home. Tom almost lost his front brake caliper -- had to stop and tighten the allen bolts!

Mad Dog Saturday Ride Report:
Saturday, January 27 2001 -- Saturday morning ride. Departed from A&W at 05:30. 9 riders. Boy, BY, Egay, Tom Kune, Engineer, Bodie, Edwin, Mike, and Papadad. Tagaytay destination -- stopped at the Petron for fuel, then on to Lookout/Viewpoint for breakfast. Overall, a good ride and good weather. Roads a little slick with mist as we entered Tagaytay. Sun came out eventually. After eating, we had 2 minor mechanical matters -- one fuel/petcock valve related (a Harley Sportster), the other spark-plug related (Japanese Kawasaki). Both were fixed on the road and we were on our way home. While the bikes were being repaired a few others went on to the big bike shop along Aguinlado Hwy in Cavite. Nothing special in that shop, apparently., at least not this time. Arrived home at 11:45 AM. Temperatures warmer this weekend than the past few. Summer is just around the corner. Papadad.