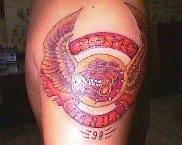 All Mad Dog Members are required to get the tattoo once they are initiated as full members. Jun is the master, our tattoo logo/creator is MDMC Bryan Hammer
Jun Tattoo is the premium tattoo studio in the Philippines, if not the whole of South East Asia. Jun himself is referred to by other tattoo artists as "The Master" having taught the art to many others both in the Philippines and other countries including Hong Kong and Japan.


Formally a local artist in his native Pampanga province, 100KM north of Manila, Jun was identified as an outstanding talent by an airman of the United States Air Force stationed at the nearby Clark Airforce Base.

The serviceman then bought Jun his tattooing equipment and the rest is history.
Apart from hundreds (if not thousands) of Servicemen who carry Jun's art there are hundreds of tourists, expatriates, local Filipinos and of course members of the Mad Dog Motorcycle Club that proudly carry the art of "The Master".
Jun's Tattoo is located along Fields Avenue, Angeles City, Philippines.
Just up from Margarita Station between the money changers
| | |
| --- | --- |
| | Jun's Tattoo is the official Tattoo studio of the Mad Dog Motorcycle Club, Philippines |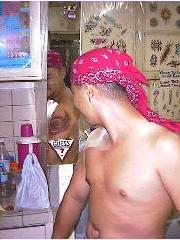 George "Shao Lin" Lee, #98 gets the Mad Dog Motorcycle Club Tattoo from Jun