Become a Member!
Membership requirments:

1. minimum 400 CC motorcycle
2. Two members who are willing to sponsor you and an invitation to join the club from the BOD
3. 6 month or longer probationary period
4. Php 6000 consumables redeemable at the Dog House
5. Php 2500 annual membership dues
6. Upon initiation, the Tattoo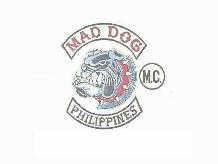 The MDMC Clubhouse is located at 1130 Pasong Tamo Rd.(formerly Chino Roces Avenue), in Makati, Metro Manila, Philippines. The clubhouse has a full bar with the COLDEST beer in town and a kitchen serving good bar food. The clubhouse is open to the public from Monday to Saturday with a distinct biker (but generally friendly) atmosphere. Tuesday night is club night when the street outside is packed with the finest two wheeled machinery in the Philippines and inside, an overdose of leather, biker talk, and cigar smoke while the DJ shakes the building with all the rock classics and howling heavy leather riding music.

The Dog House
1130 Pasong Tamo Rd Corner Devilla
Pasong Tamo
Makati, Metro Manila
PHILIPPINES
Phone Number: (02) 895-9091 and leave a message with one of our staff.